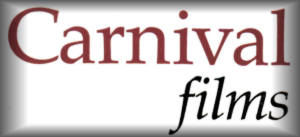 Carnival Films is one of the UK's leading independent production companies. It was founded in 1978 and is headed by producer Brian Eastman.
Carnival has produced to date nearly 260 hours of television drama and 8 feature films. The company produces drama not only for cinema and television,
but also for the theatre. Its work has received many British and International awards and nominations, including Oscars,
Emmys, Baftas, Tonys and Oliviers.
Carnival's latest feature, FIRELIGHT, produced by Brian Eastman, is released in 1999.
Carnival's latest TV work is BUGS Series 4 for the BBC, followed by a 3-part drama EVERY WOMAN KNOWS A SECRET to be screened on ITV in 1999.
BUGS was created at Carnival by Brian Eastman and Stuart Doughty, and developed with
Brian Clemens (who has remained a consultant on all the series) and also with Duncan Gould.
TV PRODUCTIONS TO DATE :
AGATHA CHRISTIE'S POIROT
56 hours (London Weekend Television)
Starring David Suchet as Hercule Poirot
4 Bafta Awards and 5 nominations; Ivor Novello Award nomination for music.
JEEVES & WOOSTER
23 hours (Granada Television)
Starring Stephen Fry and Hugh Laurie as the famous P.G Wodehouse characters
Bafta Award for Best Design and Best Graphics plus 4 other nominaticns
TRAFFIK
6 hours (Channel 4)
Starring Bill Patterson and Lindsay Duncan
An lnternational Emmy; 4 BAFTA Awards and 2 nominations; 3 FIPA Awards;
Broadcasting Press Guild Awards; Royal Television Society Award;
BANFF Award - Best Drama Series and Grand Jury prize;
Umbria Fiction Prize - Best Mini Series and Best of Festival
PORTERHOUSE BLUE

4 hours (Channel 4)
Starring David Jason, Ian Richardson, Griff Rhys Jones and John Sessions
An InternationaI Emmy; 2 BAFTA Awsrds and 7 nominations
OKTOBER

3 hours (ITV)
Starring Stephen Tompkinson
Psychologicai thriIller mini-series
CRIME TRAVELLER

8 hours (BBC)
Starring Michael French and Chloe Annett
Detective/Time Travel action adventure series
THE FRAGILE HEART

4 hours (Channel 4)
Starring Nigel Hawthorne
Bafta Award for Best Actor and Best Drama Serial nomination
Royal Television Society nominations for Best Actress
Best Drama Serial; BANFF Television Festival Best Mini-Series Award